Dois scanners para proteção e limpeza superiores de infecções por vírus e demais malwares
Porque dois? Apesar do nosso próprio scanner já detectar quase todos os perigos on-line, decidimos fazer parceria com outra grande empresa desenvolvedora de antivírus para combinar nossas tecnologias e garantir uma detecção e proteção superiores. Confira os ultimos comparativos. Nossas vitórias em diversos testes confirmam que o uso de dois scanners de análise e proteção é muito mais eficiente e seguro do que usar apenas um.
Mas não é um desperdício de recursos? Definitivamente, não! Nossa tecnologia inteligente oferece a perfeita combinação dos dois scanners, pois, as suas definições de proteção se completam e o Anti-Malware utiliza somente as fingerprints que o outro não tem, ou seja, se o scanner principal não consegue identificar determinado Malware, o Anti-Malware utiliza a base de dados do segundo Scanner, mas se ele já reconhece, a base de dados do segundo scanner não é utilizada. Isso garante um excelente desempenho. Nosso dual-core scanner é realmente muito mais rápido e mais leve do que a maioria dos antivírus mono-proteção.
Fique seguro com TRÊS CAMADAS DE PROTEÇÃO

Proteção de Navegação: Se você tentar acessar acidentalmente um site que contenha Malwares, tais como, trojans, vírus ou spyware, Emsisoft Anti-Malware vai impedi-lo de fazê-lo. A lista built-in de sites conhecidos como perigosos e fraudulentos é atualizada automaticamente a cada hora.

GUARDIÃO DE ARQUIVOS: Esta camada essencial de proteção verifica todos os arquivos que são abertos, baixados ou executados no seu computador em busca de mais de 10 milhões de softwares maliciosos conhecidos. O Guardião de Arquivos do Emsisoft Anti-Malware é inteligente e se auto-otimiza continuamente, de modo que você não sente impacto algum mesmo com dezenas de arquivos sendo verificados em segundo plano a todo momento.

Guardião de Comportamento: Para identificar possíveis ameaças do tipo Zero-day-attack que ainda não foram incluídas no banco de dados de assinatura, Emsisoft Anti-Malware monitora continuamente o comportamento de todos os programas ativos e apresenta alertas quando algo suspeito ocorre. Veja como funciona.


100% Wildlist
Detection &
0 false alerts

:    Best in 2011 & 2012 flash tests

:    Our favorite Malware Masher

No, it isn't free - but it's affordable
Don't rely on freeware antivirus programs! They usually only provide a scanner to cleanup the mess after the worst case scenario has already occurred and the PC is overrun by malware. You would rather be PROTECTED, wouldn't you? We presume that you would also prefer to receive personal assistance in emergency situations instead of being forced to fill out an anonymous support form, from which you might get a reply three days later, if at all. That's why Emsisoft is a premium software vendor for premium customers! - and includes a malware removal guarantee -
Only this May: 3-Pack at the price of 1 & HitmanPro for free!


Will it run on my PC?

Unless you have a rather outdated PC from the late 90s, the answer is most likely yes, assuming that you're using Windows XP, Vista, 7 or 8 - with the latest service pack installed. From Vista onwards all features are fully functional on x64 systems too. While running, Emsisoft Anti-Malware uses about 200 MB of your RAM which is quite low considering the 10 million signatures that it must load. If your PC has at least 1 GB of RAM, this will be perfect.
It's a popular myth that you shouldn't run two antivirus programs at the same time. We have spent considerable time building Emsisoft Anti-Malware in a way that makes it compatible with almost all other antivirus programs!
Our happiest customer (so far):
From: Dr. Hubert Hechabarria (73), volunteer medical warzone doctor since '71 (Afghanistan & Iraq), now living in Panama

Many times, what is rated # 1-2-3 is not always the best. I have downloaded and tested every available anti-malware software and not one of them worked as claimed. I continued my search and came across Emsisoft Anti-Malware, which worked 100% as advertised by Emsisoft. Emsisoft Anti-Malware advises you when a download wants to write to your registry and catches embedded keyloggers from trusted sources in real-time. It even blocks dangerous webpages. I had six infections, rated "dangerous", that were not found by three well known competitor's home antivirus products.
In addition, there are no conflicts with any antivirus, anti-malware or anti-spyware software. I would trust my life with this software. Don't be fooled by reviews and ratings, don't be penny wise and pound foolish. Protect your pc today like you would protect the lives of your own family.
Best regards,
Dr Hubert Hechabarria - Panama
Send us your testimonial please!
We're proud of these test results!
Most antivirus comparitives simply scan a very large number of malware files and count how many remain after allowing the program to cleanup the infections. While such testing gives a solid overview of static detection capabilities, it doesn't really reveal much about a product's real-time protection capabilities in real world scenarios. MRG-Effitas, a young British antivirus testing organization, spends much time and effort in executing the most dangerous real-world malware samples to see which products can effectively protect against them.
Check out these amazing results: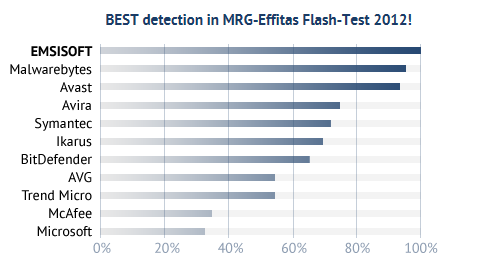 This test started in July 2012 and included more than 150 samples of current threats. Also see our Anti-Malware-Reviews Blog where we collect all tests that our products have participated in.
Frequent questions
Can it replace my current antivirus software?
Yes. Emsisoft Anti-Malware is a complete antivirus solution that provides protection against all manner of threats that are lurking on the internet. Two full virus scanning engines are used to ensure optimal detection and cleaning, while the three-layered real-time protection prevents new infections from entering your PC. Read how it works.
Why is it called "Anti-Malware" and not "Antivirus"?
Our analysis lab has determined that classic viruses only make up less than 0.5% of total threats (in 2012). Referring to our product as an "Antivirus" would therefore be wrong by definition. We're perfectionists so we have elected to use the broader term "Malware" when naming our product. "Malware" includes all types of threats, such as viruses (0.5%), rogue security software (0.5%), rootkits (1.0%), adware (2.7%), possible malicious applications (4.1%), worms (4.6%), financial malware & password stealers (5.3%), online gaming password stealers (6.9%), backdoors (13.3%) and trojans (61.3%). Please note that not all "Anti-Malware" products on the market include the same functionality and protection level.
Will the price become cheaper soon?
Emsisoft Anti-Malware's price reflects the fact that it is a premium product. We do everything possible to ensure our customers are totally happy - not only before they place an order. We maintain a strong connection to our customers and reward those who remain loyal over a long period of time. This means license renewals are 25% cheaper than the initial purchase and with each additional year the price is reduced by a further 5%. You can receive up to 60% off the regular annual price! If that's still not enough to convince you, please take a look at our Referral Rewards Program. Tell your friends about Emsisoft and for each unique user that downloads the trial version of Emsisoft Anti-Malware, you will be rewarded with a 1 month extension to own full version license. You can even extend your license by 6 months for each referred user that purchases a 1 year license or longer. More about the Referral Rewards Program
Isn't Emsisoft Anti-Malware freeware?
Yes and no. By default Emsisoft Anti-Malware installs as a free fully functional 30 day trial version. After the trial period you can either choose to buy a full version license or switch to the limited freeware mode. The freeware mode still allows you to scan and clean infections, but it doesn't provide any real-time protection to guard against new infections. It's useful as a second opinion scanner but you should NEVER rely on the freeware mode as long term protection for your PC. Without suitable real-time protection, your PC is at risk of becoming infected very quickly.
How can I renew my license?
If your current license hasn't expired yet: Open Emsisoft Anti-Malware and click the "Buy renewal" link in the bottom right corner of the Security Status screen. Follow the online instructions to complete the order. During the next online update, the license information within the software will be automatically updated.
If your license has already expired: Please enter your current license key on our renewal order page and follow the instructions.
Test Emsisoft Anti-Malware, risk free
Download a fully functional 30 days trial version and become convinced of the benefits yourself, or place an order immediately and take advantage of our 30 days money back guarantee. No matter what you decide, you can't go wrong with Emsisoft Anti-Malware. THERE'S NO RISK INVOLVED!